On the Next Show
Coming-up on the next show we are pleased to introduce David Hanson, the owner of Hanson Overhead Garage Door Services to you. Yes, garage doors need maintenance!
We'll follow that with an up-to-the-minute report on whale sightings from Dana Wharf Whale Watching in Dana Point, and then on to Paris with Lea Goodsell.  It's another busy show that also includes local event info and prizes.
Merci beaucoup ……………Françoise
New Page!  TWF & ACT Adventures…..Click here for information about Quartzsite, upcoming adventures and past trips.  SIGNUP DEADLINE IS 1/16 5 PM…BOOK TODAY!
While here, don't miss the TWF YouTube page loaded with past destinations, simply click the YouTube icon above.
Tune In
On Sunday 11am – 1pm on
Money Radio 1200
On Sunday 8 am – 9 am on
Money Radio 1510 Money Radio 99.3 FM
Featured destination
Covering Southern California, Arizona,

Presented by : Thai Smile El Paseo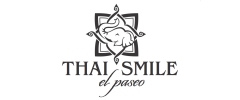 73725 El Paseo
Palm Desert, CA 92260
760.341.6565
www.thaismilerm.com