On the Next Show
With 18 locations in the Coachella Valley alone, Dick Shalhoub the owner of these McDonald's restaurants joins me to talk about how the company stays on the forefront of technology and how it truly is about what the customer wants.  For me it's a Big Mac and fries!
Then we go to the town of Williams, Arizona.  Home to the Grand Canyon Railway Hotel and the train that takes us to the Grand Canyon, like most people who've been there, you'll fall in love with this old cowboy town founded in the 1800's.  www.TheTrain.com
Saddle up for a fun time…….Françoise
Tune In
On Sunday 11am – 1pm on
Money Radio 1200
On Sunday 8 am – 9 am on
Money Radio 1510 Money Radio 99.3 FM
Featured destination
Covering Southern California, Arizona,

Presented by : Thai Smile
On El Paseo!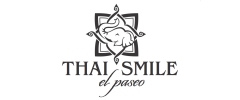 73725 El Paseo
Palm Desert, CA 92260
760.341.6565
www.thaismilerm.com