Françoise Rhodes: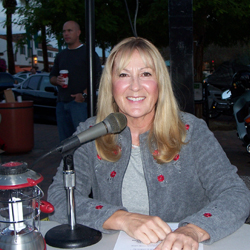 So you're interested in me, I'm truly honored. As the owner/producer and host of Traveling With Françoise!, the only travel radio program in the Palm Springs and surrounding areas, I love what I do. Born and raised in California, I have yet to find a replacement, and I've looked, and continue to look everywhere I visit.
In the past I've hosted the Coachella Valleys only dedicated golf show 'Golf is a 4 Letter Word', currently this show is on hiatus as I look for a new home for it….any suggestions?
Before my radio career began, I was (and still am) a published writer. Celebrity profiles being my forte'. I've been fortunate to have interviewed such notables as President Gerald Ford, LPGA Commissioner Carolyn Bivens, Fred Couples, Ray Romano, Michael Bolton, Alice Cooper, Joe Mantegna, Rick Dees, William Shatner, Joseph Wambaugh, Arnold Palmer, Mickey Rooney, Bo Derek, Tim Conway, and Jerry Weintraub. Now I can add to the list Carson Daly and Robby Krieger. I have interviewed over 100 celebrities/athletes/notables and was the last person to interview actor Doug McClure, which I have on tape.
With published works in InStyle Magazine, Horse and Horseman, Senior Life USA, Press Enterprise, Women Poker Player, Golf Divas, Desert Sun and more, currently I'm a staff writer for Desert Golf Magazine and Colorado Golf Magazine Memberships include the Media Mavens, Society of American Travel Writers, Travel Writers Association of America, Travmedia.com, Palm Springs Hospitality Association, Golf Writers Association of America, Southwest Golf Media Association and more.
My love for radio began seventeen years ago after several co-hosts spots, on a local talk show. Encouraged to develop my own program, I founded "Get A Life" With Françoise. This one hour radio show quickly became a hit. After two years I wanted to bring my enjoyment of travel into the program so I added another hour, changed the format and name to Traveling With Françoise!
However, with growth comes change, now you'll find our new live digital format as I've partnered with Craige Campbell and CoachellaValley.com on Sundays via Facebook starting at 11:11 am. I still host the travel portion of the show but now partner with Craige on the events hour. The podcasts you can watch and listen on our podcast page.
Traveling With Françoise is now in its third year of television on Fox 11 KDFX every Thursday at noon and Monday and Friday mornings at 5:30 am. I'll take you on a 30 minute adventure near and far to places I hope you find as interesting as I do.
Life is an adventure, well mine certainly is. I have toured the U.S. nuclear submarine The Thresher, floated the airways in the Good Year Blimp,was rescued by the U. S. aircraft carrier Enterprise off the coast of Italy (our small boat ran out of gas thanks to the great/handsome Italian tour guide)and toured an off limits (to the public) Mexican gun-boat and flew in a Blue Angels performance jet. I am constantly amazed at the adventures life offers me.
I enjoy playing golf, poker, my home, traveling and driving. I envision TWF being syndicated and heard around the world. I always seem to have projects I'm working on, I wish there were 10 of me to help.
Enough about me.
I'm always open to suggestions and would love to hear from you.
Thank you for your support, it means a great deal to me.
And remember, "It's never too late, to get a life!"