2017
August 18 – 21, 2017
Traveling With Françoise is going to Nashville with ACT
"ONLY 10 SPOTS LEFT!"
Hosted by Adult Customized Tours
Visit the Grand Ole Opry and be on television as we film this tour
for an upcoming episode of Traveling With Françoise
We'll also be at one of the best areas across the country to view the
Total Solar Eclipse at 1:26 pm!
Includes:
Transfers from the Coachella Valley to LAX!
Fly Delta Airlines nonstop to Nashville
Accommodations at Fairfield Inn and Suites Nashville at Opryland
Daily hot buffet breakfast (BB)
Saturday night show at The Grand Ole Opry—Orchestra and Front Mezzanine seats!
Plenty of leisure time for optional tours
Solar Eclipse
$995 – call today and reserve your spot
and on television.
760-322-1247
2018
April 27 – May 9
Cruise to Alaska from Los Angeles /No Flying!! Five Star Cruise
Hosted by Françoise Rhodes/Traveling With Françoise
Unique 12-day cruise on Princess Cruise Ship Emerald, departs
from the Port of Los Angeles on April 27 with stops in Vancouver – British Columbia,
Juneau- Alaska, Skagway – Alaska, Glacier Bay – Alaska, Ketchikan Alaska, and returns
Home on May 9.
$1,995 per person, double occupancy
Includes taxes, port fee, PLUS transfers from desert and inland locations!
Call ACT – Adult Customized Tours today and book it…this will sell out quickly!!
(760) 322-1247
Past Adventures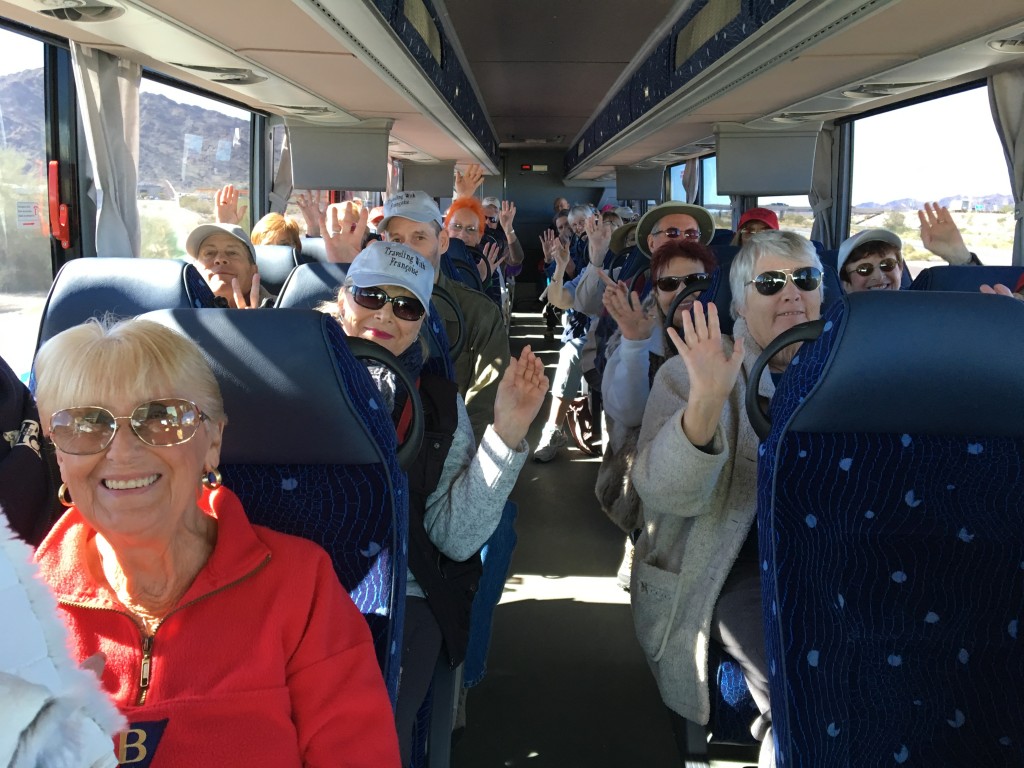 January 25  "Big Tent" Day Trip to Quartzsite, Arizona
A successful shopping experience was had by the 45 adventurers who made the trip.
Since everyone was scattered throughout the big gem and mineral shows going on in Quartzsite, this photo on the bus is the only group picture available.  I apologize for those who we don't see.
Captain Bob – our driver- did a fantastic job navigating the bus through all of the tight corners and many stops! And yes, we did see the 'Largest Silver Belt Buckle in the World!'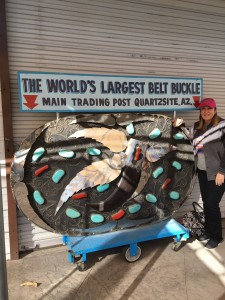 ---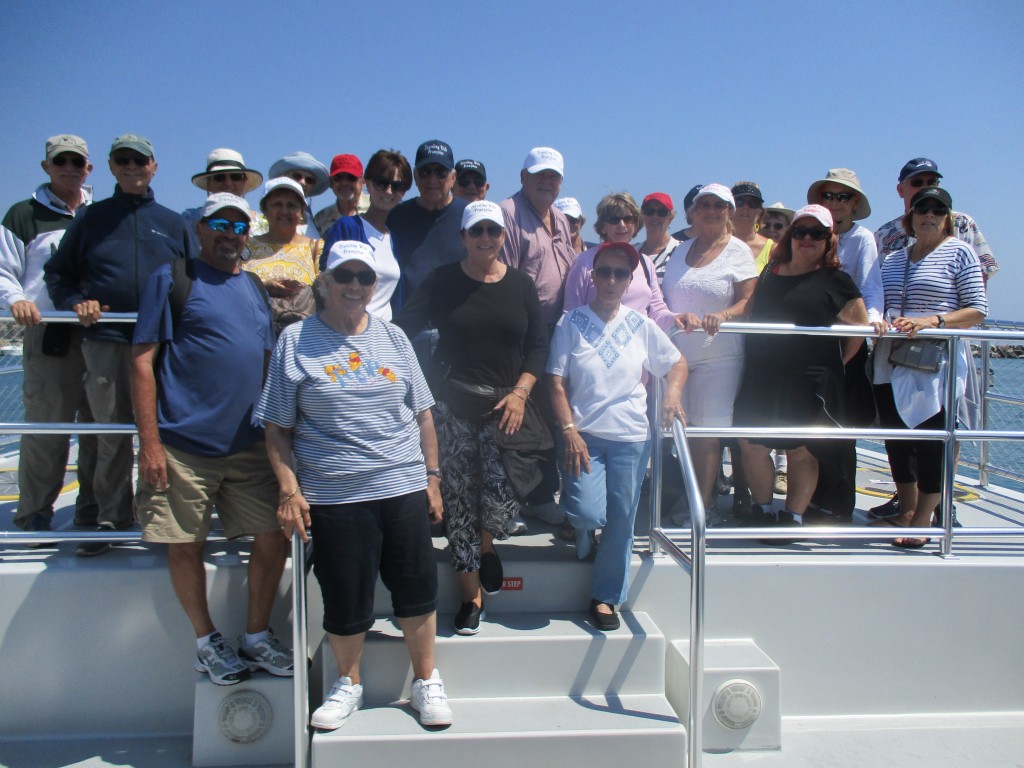 August 24  Dana Wharf Whale Watching Day Trip
On this hot summer day in August, 36 TWF/ACT seafarers headed to Dana Point, California, in hopes of seeing Moby Dick.  With whales on our minds, that didn't stop everyone from having breakfast or lunch at one of the wharf's many restaurants.  Once boarding a large Catamaran we headed out to perfectly calm seas, cool breezes and sea going wildlife.  From seals, birds and huge schools of dolphins no whales were to be found, but watching the frolicking dolphins and their babies certainly made up for it.  All agreed, it was a fun getaway.   Heading to Dana Point?  Book your whale watching adventure with www.DanaWharf.com .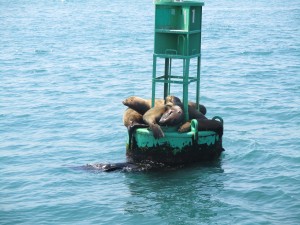 ---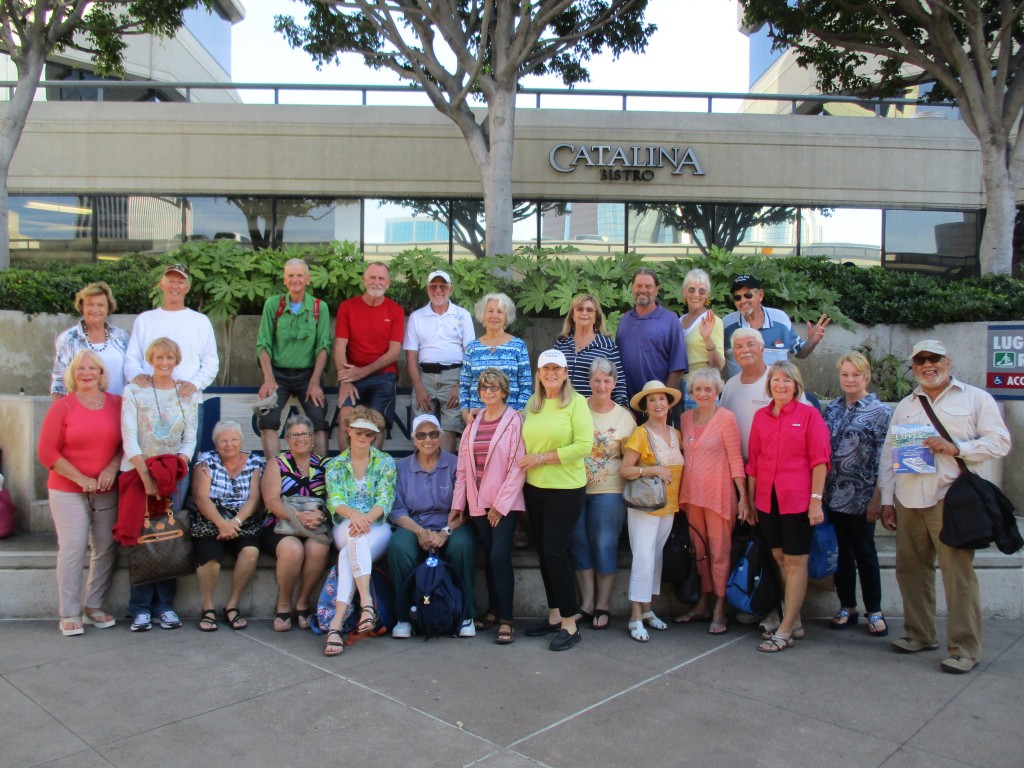 June 2-3 Catalina Island Overnight Getaway
Twenty-seven  TWF/ACT adventurers hit the high seas on the Catalina Flyer out of Long Beach for Catalina Island. An hour later we were dockside ready to enjoy the sights and sounds of Avalon Harbor.  Our lodging was the newly renovated Pavilion Hotel, a hit with the entire group.  From there it was all about sight-seeing, dining, shopping, zip lining, island tours, relaxing and enjoying the our solo and group events.  To book your lodging or plan your activities visit www.visitcatalinaisland.com .